This turned out to be more entertaining and informational than it started out to be.
First of all, the seminar got a very late start; we were finally seated at 12:14 for a 12:00 seminar (seminars that only last 45 minutes, so we lost 33% of the seminar time)… it soon became apparent that the problem was a missing presenter (supposedly, "stuck in traffic" – however, we didn't run into any traffic getting to Epcot).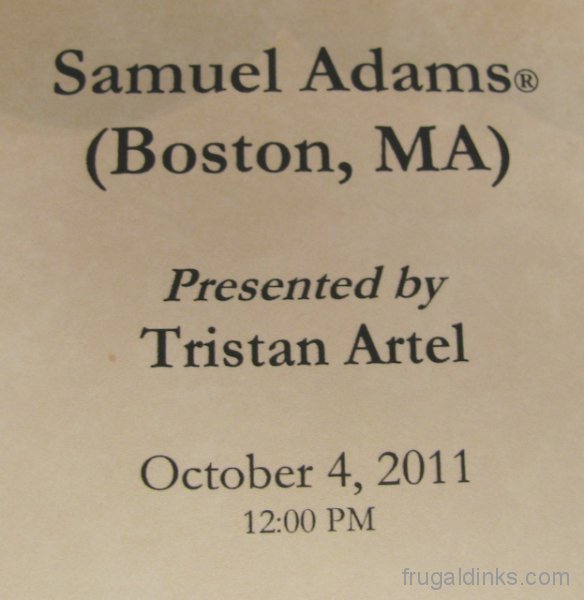 The same as last year, you are given a sheet with the beverage names and space to make tasting notes.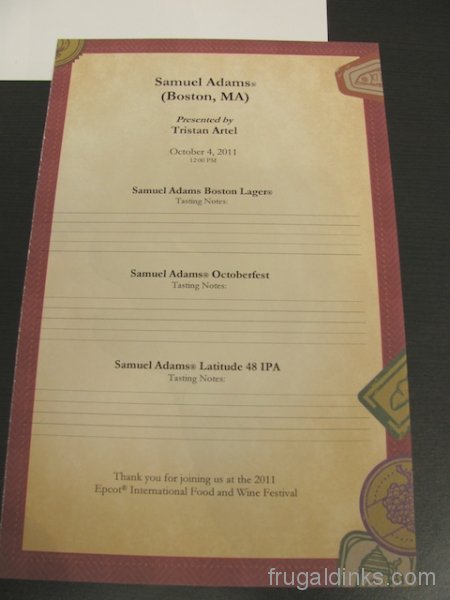 While waiting to find out what was going to happen, we made some notes about the venue since this was the first time we've sat here this year. Although this space is more "built" than it was last year, there doesn't seem to be the problem that Nick noted with the culinary demonstration space – blocked views. One thing that Nora noted immediately, these seats are HARD; they're solid wood just like the seats at Sanaa, very uncomfortable for bony butts.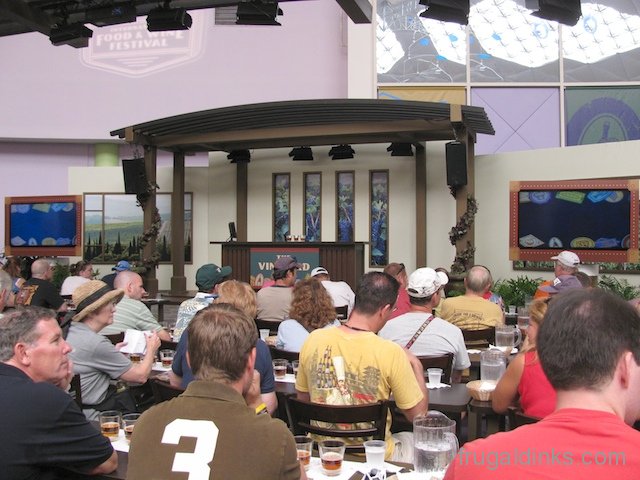 Last year we were surprised to find only 6 – 8 crackers in a basket to "cleanse the pallete" between tastings for 4 people.  This year was no different.  Because we had time to kill, I got a photo of the basket before anyone touched it.  The broken cracker is a nice touch…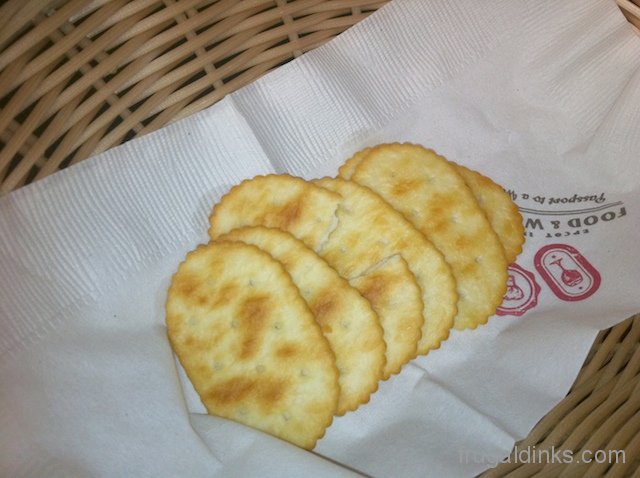 Okay, back to the presentation…
Mark, a Disney World Cast Member, came out and started to talk to the crowd, we thought it was to fill the time until the late presenter showed up… turns out that Mark was our information and entertainment for the session.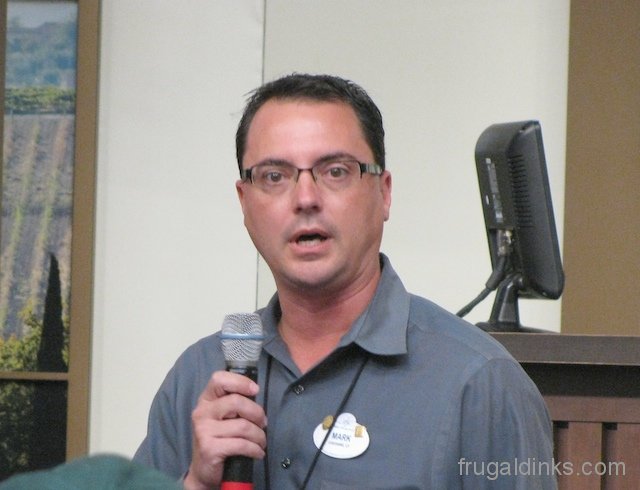 First off, the beers…  (see last year's beverage demonstration from Sam Adams here)
Three "beers" from Samuel Adams:

Samuel Adams Boston Lager – well, it tastes like warm Sam Adams (doh!), the smell is nothing particularly distinct to our nose, it smells like beer
Samuel Adams Octoberfest – we've had this many times in the past, we like it
Samuel Adams Latitude 48 IPA – we did not like this one at all, but we knew that from last year's deminar (that's what the Food & Wine Festival folks call these… demonstration seminar = deminar); Nora says that she may have found a beer that she really doesn't like; the smell is rather floral due to the hops; the taste too very bitter, which is surprising because we both like bitter tastes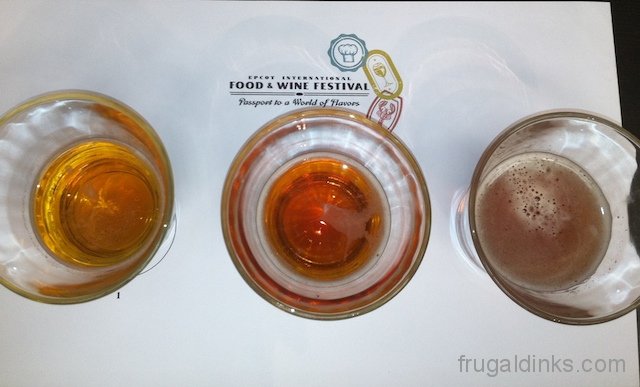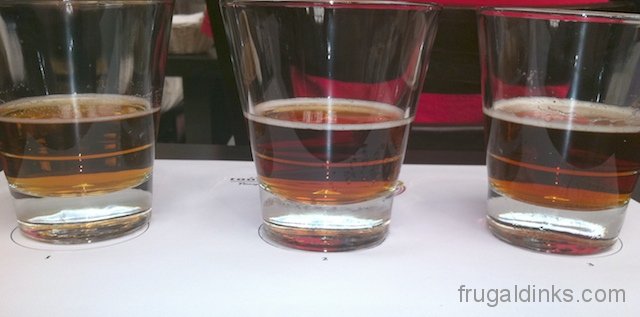 So, here's what we learned…
This is the ONLY beer seminar on this year's Food & Wine program
Sam Adams is a beer that prides itself on pairing with food, then there was discussion of what foods

you'd pair with beer
you'd cook with beer — example from Mark… steamers cooked with blackberry beer and standard ale

How do sponsors and demonstrators come to the Food & Wine program?

used to be that Disney would recruit companies for Food & Wine
now Disney just responds to requests to contribute or participate in Food & Wine, the Festival has become so popular that they no longer have to go out to find participants

The Food & Wine planning team has already started talking with participants for 2012
Beverage Seminars used to be FREE (this was before we began attending them)

not any longer
Disney found that guests would come in, hammer back the alcohol, get up and leave — the presenters were left speaking to empty chairs

There are 8 (yes, EIGHT) Samuel Adams varieties available at the Hops & Barley booth
Red Brick from Sam Adams (available during last year's Food & Wine Festival) was removed from the Fife & Drum kiosk at the America Pavilion about 4 months ago because the brewery wasn't prepared to deal with the capacity (volume)

a Cast Member told us on Friday that it was because there was some push back from Boston taverns (Red Brick was available at the brewery, select Boston taverns, and the Fife & Drum kiosk), they wanted to Red Brick to be a "Boston-only" product

Every year, the flavors of a particular Sam Adams variety are different; for example, the 2011 Octoberfest tastes differently from the 2010 Octoberfest
Just released

Utopia – may not be able to find in Central Florida
Imperial – should be able to find in Central Florida

Last year there wasn't a Festival Brew from Samuel Adams, this year there is a Festival Brew… Boston Ale (not very unique huh?)

again, it's a problem of capacity; the Food & Wine Festival consumes A LOT of beer, it's very difficult to produce enough beer but not too much beer for the 45 days of the Food & Wine
so… is that why the beers at the other kiosks in Epcot during Food & Wine Festival are so "pedantic"? None of them are particularly exotic or rare or fascinating, they're not bad! (well, we're not fond of ales, we prefer lagers) The consumption rate is too high for smaller breweries to participate?

Final note: Samuel Adams has a Home Brew Contest – this year's winner was "Bonfire Rachbier" and it's included in the sampler packs for this autumn – need to give this one a try!
Because these events are "subject to change", Disney offered no apologies or refunds or gift cards or even an extra beer.  Mark mentioned early on that these are "subject to change".  Still, this is Disney where magic happens right?  I wonder what will happen to the Sam Adams employee that didn't make a presentation at an Epcot Food & Wine event?
nora & nick