November 8 – 10, Downtown Disney hosted the 38th Festival of the Masters. This was our third year to attend. Because of the overlap with Food & Wine, we were only able to make it over once and missed things that in the program sounded interesting.
With all the construction and fences, there was less space for booths.  Although the program says over 300 artists, there were not nearly that many booths. Plus the Disney Artist Village got moved out to a grass/dirt space next to House of Blues. In the past it was on Pleasure Island.
Honestly, I was less than impressed this year. Disney created expectations from what I saw the prior two years and something just felt "off" this year. Maybe it was all the construction? Maybe the art we saw was less appealing than in prior years? If this had been our first time attending I'd probably say, don't waste your time. But we'll likely give it another chance next year.
The booths were less packed into some areas. However the area near Cirque was jammed like last year. Below are photos of all the booth "areas". I took very few photos of actual art. Many artists have no photography signs and when I snapped one photo I was told do NOT post that on the internet. So these are some boring photos…
The folk art area was about the same size but again, much less interesting this year…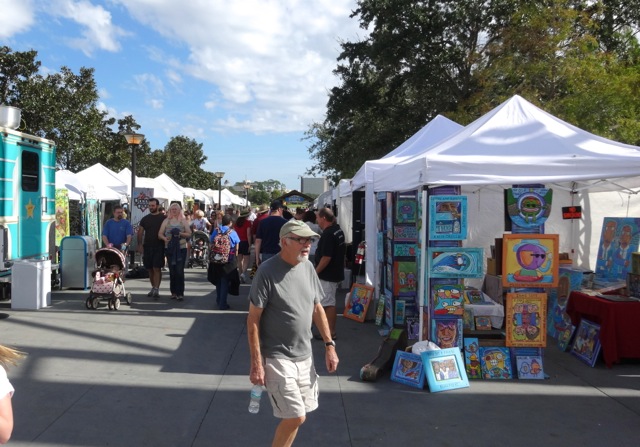 There was a Lego Master Builder doing a demo. The Lego area in general was quite well done and quite popular.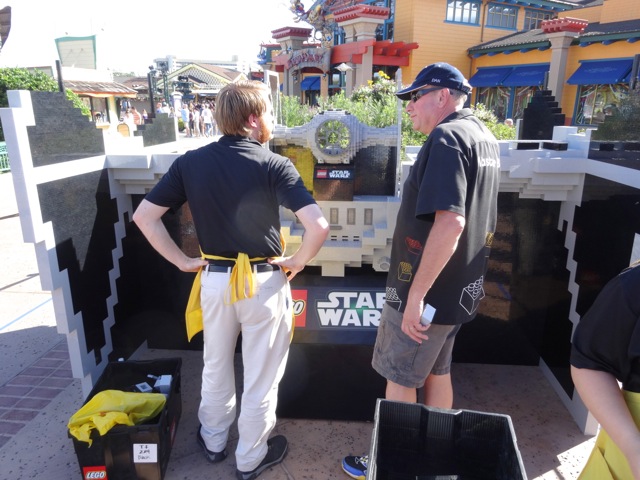 Disney is getting ready to release a 50th anniversary edition of "Mary Poppins". They had hired a professional chalk artist to highlight the coming bluray release…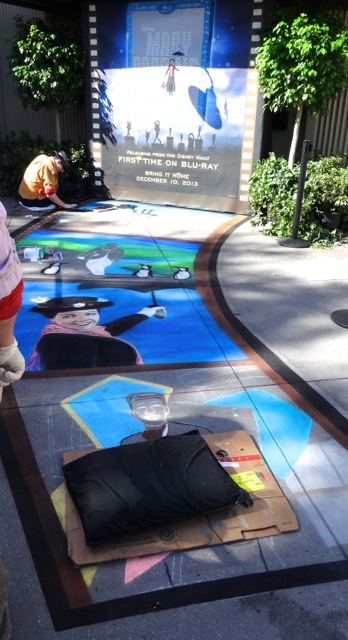 Michael's (arts/crafts store) was again the presenting sponsor. Their area was more miss mash this year. But it didn't deter the kids from having fun…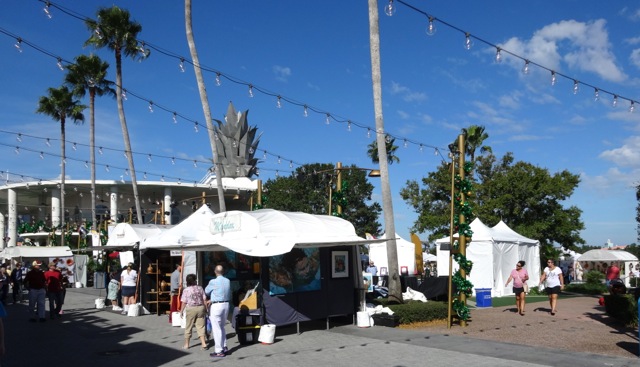 Disney had also set up a tent to promote a Planes game. But for some reason, no one seemed interested?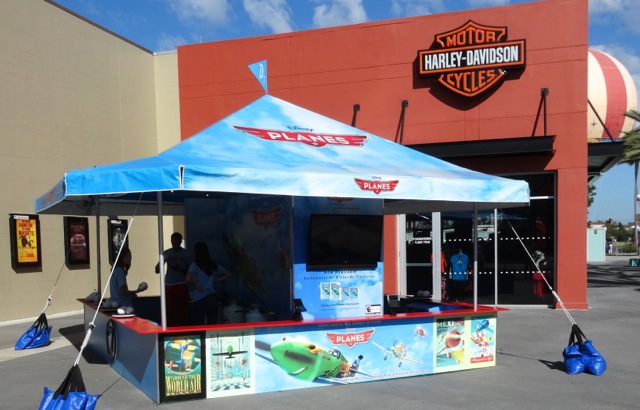 And as in past years there were numerous chalk artists. Many of the artists appeared to be high school or college age. It is nice to see them working and collaborating together plus some of the work is awesome.
Sorry about not having more details and photos. It was a busy weekend for us. But as it turned out I am glad we didn't plan more time for the Festival of the Masters this weekend as I was not as impressed as the last two years.
Some side notes on Downtown Disney construction. The new walkway around Pleasure Island opened this week. It is wider than we expected as we have peeked over the fence a few times during construction. Looks pretty nice actually.
One of the new food trucks (based on Hollywood Studios) was serving this weekend. We heard the cast member say that the Animal Kingdom truck will roll out in the next week or so.
Before noon guests were already being directed to park across the street from Downtown Disney in cast member parking. According to Keith Bradford, VP of Downtown Disney, the first new parking garage will not open until early 2015. Ouch, guests are really going to have issues during Christmas and next summer with parking. I was surprised the first garage was going to take so long…
Speaking of traffic, we walked to Downtown and then back "home". At noon when we left, traffic on Hotel Plaza Boulevard was crawling (but moving). The back up went all the way to Vineland and sometimes even with a green light people were unable to exit Vineland onto Hotel Plaza. The Vineland back-up was past I4 so I can imagine there were some very frustrated drivers. No way would you get me in a car headed down there on a Friday or Saturday night.
Finally, the ice cream/pretzel shop near the water/ balloon ride at West Side is no more. There is a construction fence and much of the building is gone… I'd estimate the construction area at 120 by 60 feet. Opening in 2014, a really big Starbucks. If the design echoes the architecture that is coming – it doesn't fit what is near it at West Side right now. Just saying…
Thanks for reading!
nick