Epcot International Food & Wine Festival 2012
The Edrington Group (Speyside, Scotland); Randolph Adams, Brand Ambassador
September 30, 2012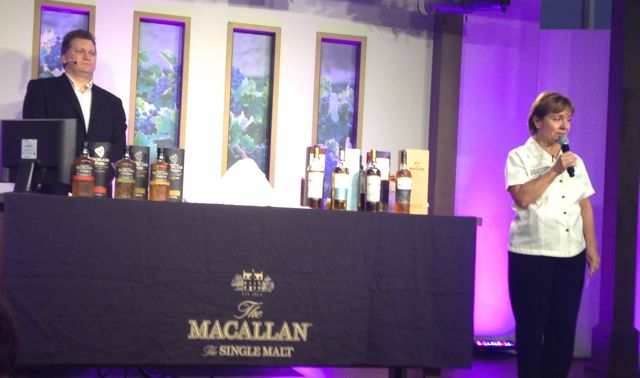 Things that are different this year
(there was no Edrington Group demonstration last year, we wrote quite a bit about the experience in 2010 (here) and will try to limit repetition in this post)

The full-sized mixology sheet not only had the cocktail recipe on it, it also had "tasting notes" – this is very convenient and informative (good change :))
Randolph is not from Scotland, but his lovely wife Nicki is (she's from Edinburgh). Even though he isn't from Scotland, he has spent time there every year for 20 years, and he loves whiskey.
Whiskey is a simple spirit – only two things are required – it must be made of grain and it must be aged in oak. For example: bourbon is made of corn, Canadian whisky is made of rye, Irish whisky (a.k.a. scotch light) is made of barley and is distilled 3 times, and Scotch is made of barley and distilled twice.
"the harder it is to pronounce the name of the scotch, the smokier it will be"
There are six regions in Scotland, and he discussed three of them:
The Lowlands – this is where most of the population lives and where most of the grain used to make Scotch is grown
The Islands – simply put, Scotch from the Islands tends to be smoky because of the peat used to roast the barley grains
The Highlands – Scotch from the Highlands tends to be not smoky…
 "if it says "Glen" then it's going to be light"
The Macallan is expensive to produce, in part because their tills are quite small, their oak management program (source it themselves, use barrels 2x, Spanish oak barrels are sherry seasoned, and American White oak is used for a lighter style of scotch), AND because of evaporation… the longer the whisky is in the barrel, the less whisky there is to bottle and sell. The Nose (this is a man who noses and tastes every barrel, wow! what a job!) decides if each barrel is up to standards and can become The Macallan; if it isn't up to snuff, then it becomes Famous Grouse, a blended whisky.
More about oak:
Spanish Oak

spicy
The Macallan bottles that contain whisky aged in Spanish Oak have all white labels – ice hurts this scotch, its not going to do a lot of damage if you add a drop of water to release some of the aromas, but it should be drank neat
name: The Macallan

American White Oak

honey & vanilla
The Macallan bottles that contain whisky aged in American White Oak have split labels (part white and part some other color) – developed to go with ice, not to be drank neat
name: The Macallan Fine Oak
The Edrington Group also produces Highland Park. It's a bit smokier (20% peat) and is created on Orkney island way up north. Orkney is so far north, that it has Scandanavian heritage in addition to Scottish. In fact, one of their whiskies is named "Thor." Highland Park has the distinction of being named the "Best Spirit in the Year" in 2005 and 2009; last year, Paul Vacalt (sorry if we're butchering his name) said that if it was up to him, he'd name Highland Park Best Spirit of the Year again in 2011 but that isn't really fair to all the other spirits – so he started a Hall of Fame and awarded Highland Park the first title "Best Spirit in the World." (btw: Highland Park is our favorite whiskey)
"The Macallan is like James Bond and that Highland Park is like Indiana Jones."
"Recipes"
(we suppose that since this is officially a "mixology" seminar and not a "spirits" seminar – we got recipes…. enjoy)
The Macallan 12 year:
pour 1-oz of The Macallan 12-year into a rocks glass
serve neat
Tasting notes:
Color: rich gold
Nose: vanilla with hints of ginger, dried fruits, sherry sweetness and wood smoke
Palate: deliciously smooth, with rich dried fruits and sherry, balanced with wood smoke and spice
Finish: sweet toffee and dried fruits, with wood smoke and spice
Our notes:
Randy says this "smells like Christmas"
Nora detects a bit of smoke and spice
Nothing wrong with The Macallan 12-year, but it's not going to become our favorite go-to scotch
The Macallan Fine Oak 15 year:
The Macallan Fine Oak 15 year
pour 1-oz of the Macallan Fine Oak 15 year in a rocks glass over an ice ball
serve
Tasting notes:
Color: rich straw
Nose: sublime and full, with a hint of rose and cinnamon
Palate: intense rich chocolate, with a hint of orange and raisin
Finish: lingering, with a hint of chocolate, orange, and dried fruits
Our notes:
First off, what about that solid copper ice ball maker? Nick wants one! It creates round ice balls using pressure (weight) and conduction (thermodynamics – the copper is warmer than the ice and copper is a great conductor). Thing is, these babies cost about $600… maybe we'll just have to visit bluezoo and get ice balls in our scotch there.
Now, last time we had this Macallan Fine Oak, we weren't too impressed; the addition of the ice ball changed all that, now we could actually see ourselves ordering it (like at bluezoo).
 Blood & Sand:
1-oz Highland Park 12 year old
3/4-oz Cherry Heering
3/4-oz Sweet Vermouth
1-oz orange juice
mix all ingredients in a shaker with ice
shake and strain into a martini style glass
garnish with an orange twist
Our notes:
Nora really likes the smokiness that the Highland Park adds to this cocktail. In recent months she's drank a few Blood & Sands at bluezoo, but the smokiness kicked the flavor up a notch.