As promised, one last post on the 2013 Labor Day car enthusiast's "extra magic" at Walt Disney World. I already pointed out that the best organized was the actual Dream Cars Weekend at Coronado Springs. The others were so bad that Dream Cars Weekend's organizer posted that they had nothing to do with the other shows. The organizer also posted how well Dream Cars Weekend went.
360 "registered" show cars, 525 rooms booked under the show name at Coronado Springs, Friday night party sold out (300 tickets), Saturday night party sold out (500 tickets), and all 28,000 of show hall was booked by exhibitors. Congratulations to the organizers and I hope they do even better next year. As a car enthusiast, events like this really are "extra magic" at Walt Disney World for me.
Dream Cars Weekend featured autograph signing by "Big Daddy" Don Garlits. I was more interested in Swamp Rat 12 A!
Geoff Bodine (one of Nascar's "50 Greatest Drivers") was also signing autographs as well as promoting his line of Frenzy Wax. Geoff brought along an Olympic sled that he funded starting in 1992. With Geoff's backing the US won 3 medals in the 2002 Olympics and then gold in the 2010 Olympics.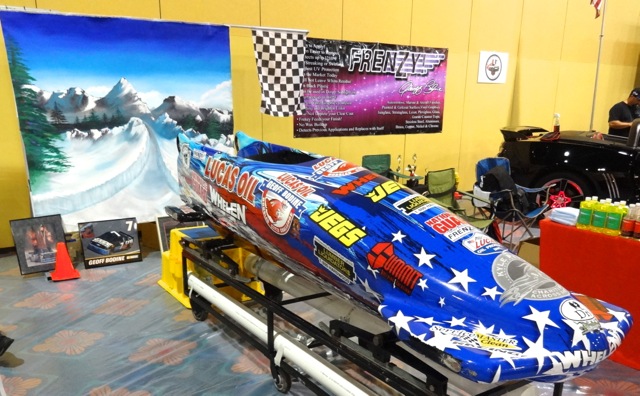 Car artist Laurence Gartel was also in attendance. Unfortunately, Gartel seemed a bit bored. In the photo below you can see him all alone between his cars.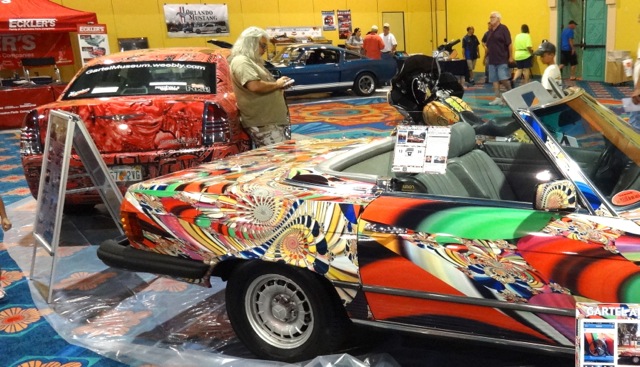 The Daytona Antique Auto Racing Association brought out a few old race cars for attendees to enjoy.
There was also a model car show. But these were not model cars you buy in a kit – these are serious model builders.  The show was called, 12th Annual table Top Nationals NNL. I had no idea what NNL stood for so like most of us, I Googled it. NNL stands for Nameless National Luminaries. The story behind it is too long for this post…

There were several feature cars but I always get a chuckle when I think about Amphicars. Alton Brown says you should never own a single use device. But we have yet to find a car that can truly multi-task as a boat. The Amphicar was never a good road car or boat. Most say it drives like a boat and handles the water like a car.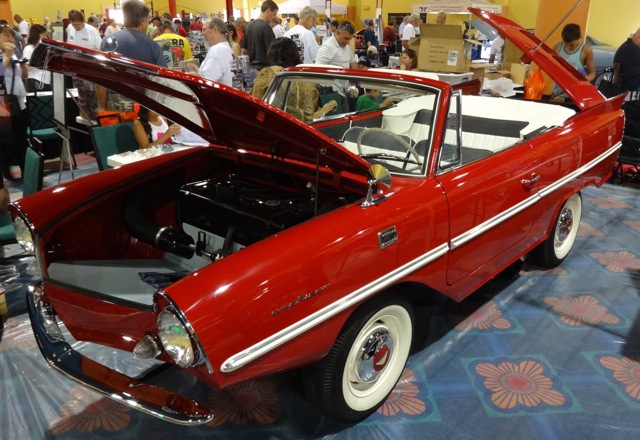 The best part of any car show is the people and their cars. Car people are just nice folks. They spend their hard earned cash on cars and travel and shows then sit around swapping stories and answering the same questions over and over. But they keep doing it, weekend after weekend. Car shows become a way of life and many folks see each other at many events throughout the year. For me, I enjoy wandering around and looking for cars that make me smile. With nearly 400 cars spread around Coronado Springs, I had a great time even though it was bloody HOT!
There were traditional T- Buckets: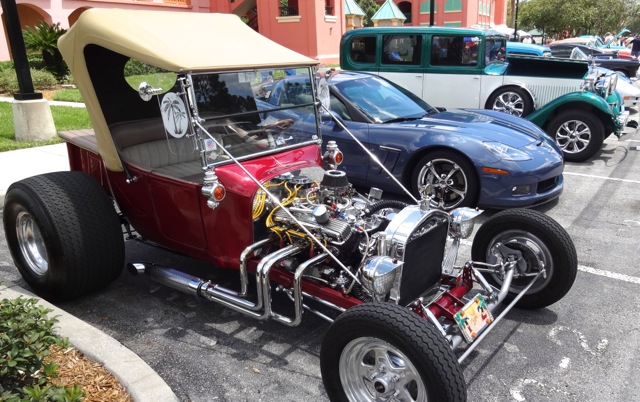 There were "Rat Rods", Cobras (all kits as best I saw) and Mustangs: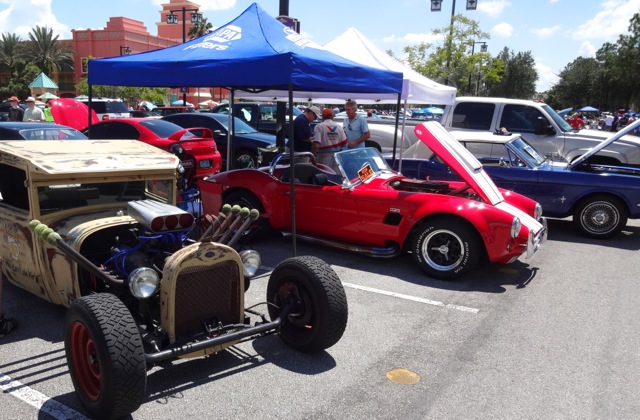 There were cars for Hollywood movie stars: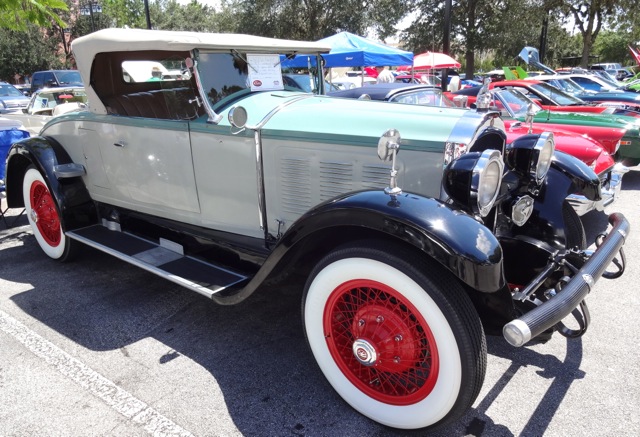 And there were cars that had become a canvas to paint: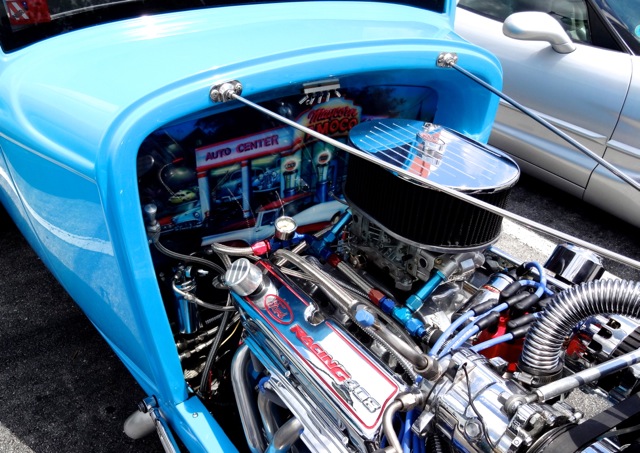 We see AP (if you are reading this I trust you know what AP means – Walt Disney World "Annual Pass Holder") magnets on cars everywhere. But this was the coolest placement I have ever seen!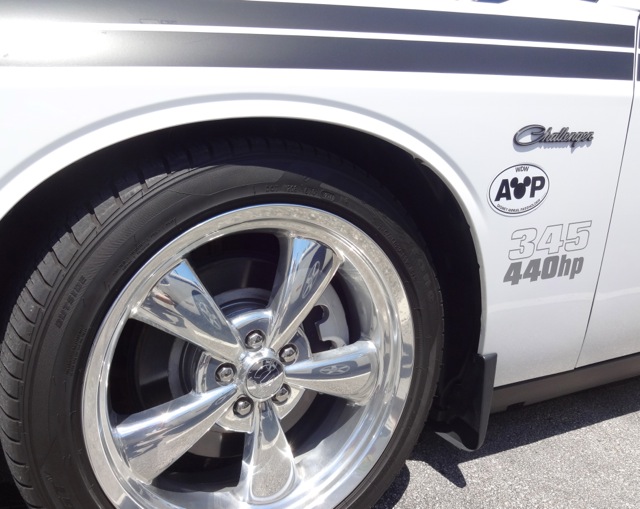 Somehow Tigger managed to drive himself over in a cool convertible Corvair to check out all the cars.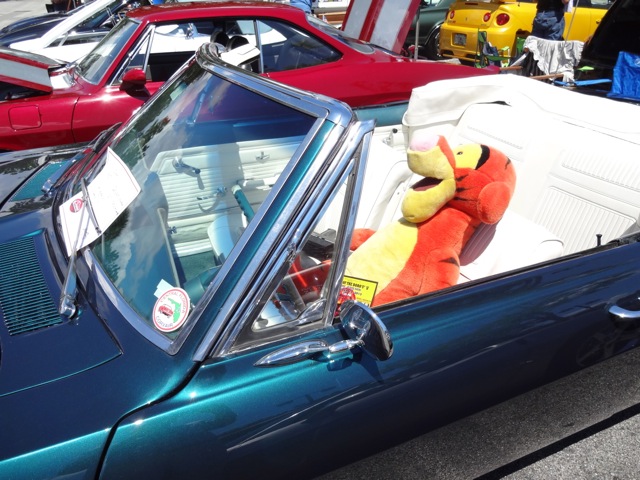 Somebody's 'Bird has a car-hop food tray loaded with dinner. But unless I am mistaken aren't those Drive-In speakers on the pole? Maybe the folks in the car are not interested in the movie…  :)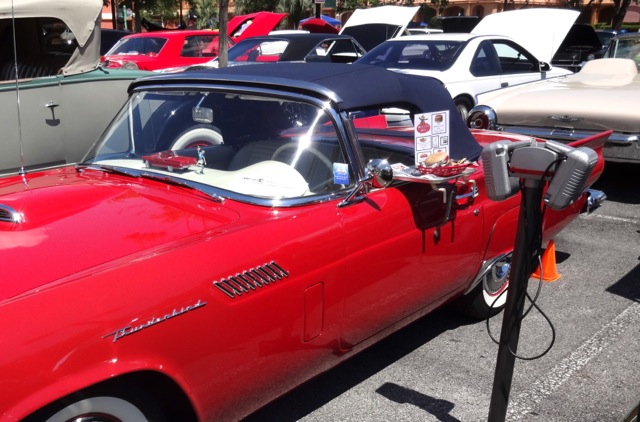 I don't consider the next wagon a "true" "Woody". But the owners did a great job of kitting it out. Kind of like how Disney works so hard on theming. These owners did a great job with theming – especially when you see all the goodies they have packed for the beach. There are activities for everyone in the family!
Can you tell I REALLY enjoy cars? Probably so if you have read this far and looked at all the photos! So just one more set. One owner cars are very valuable to collectors. Much to my surprise, there was a lady at the show who bought her Karmann Ghia new in 1969 (44 years ago folks!) and had the documentation and photos to prove it. Now it is not original but it was cool to see! Too bad every time I walked by their were gawkers. Sorry about the *sses in the photos.

Congratulations again to the organizers of Dream Car Weekend 2013 at Walt Disney World. You did a good job and I know that you'll do even better next year! I will be there.
To all our readers, if you have never been to a car show, give it a shot. Talk to the car owners and ask questions. Car people are good people and you are sure to dredge up some old memories as you take in all the sights. And that folks is what makes life grand – memories and making memories. Remember, "This life ain't a dry run!"
nick