Fort Wilderness Resort and Campground does not need to do much holiday decorating…the campers do more than most home owners. Although many Disney World fans know about all the decorations at Fort Wilderness, many never take the time to go see them. It is possible to write a month long blog about all that there is to see at Fort Wilderness. But to spare our readers, I've tried to find photos to tell the story as best I can. This will be another multi-day post so I hope you enjoy it and that it inspires you to see Fort Wilderness during the holiday season…
Fort Wilderness does very little in the way of decorations but one that caught our eyes are the decorated wagon wheels.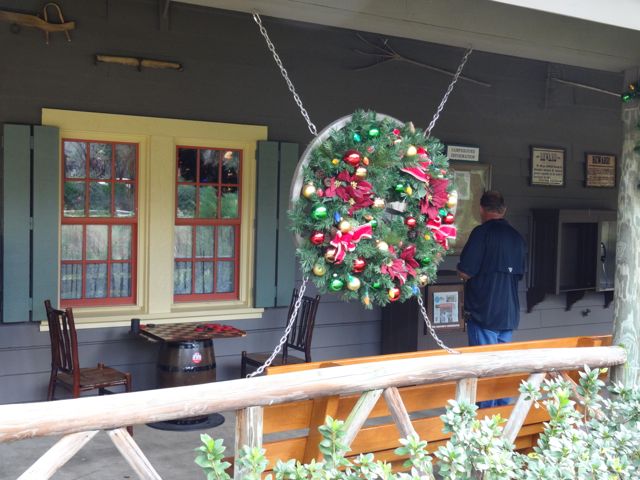 Yes, that is the front of the store near the marina. Immediately to the right of the store is a campsite that is bursting at the seams with holiday decorations.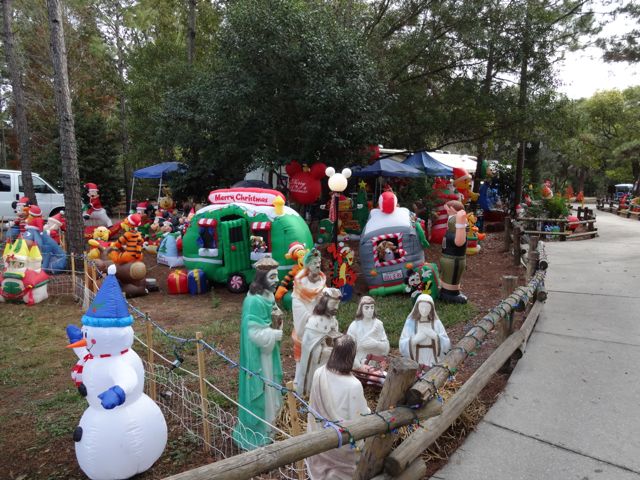 There are at least 6 camp sites this year that are just as heavily decorated. Some folks even do a fantastic display in their RV windshields. Those are not just Disney character "plush" toys. They are all in holiday attire!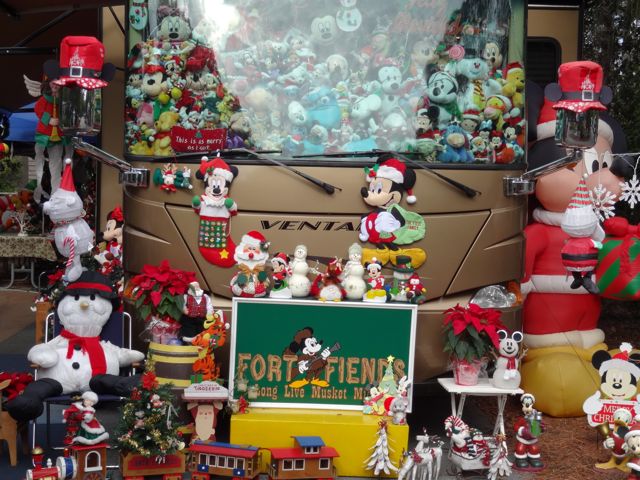 Many campers at Fort Wilderness focus on Disney characters – no surprise. This year we saw two "new to us" Mickey and Minnie blow up holiday decorations. The first has Minnie kissing Mickey under the mistletoe (note the lipstick on Mickey's cheek). The other featured vintage Mickey and Minnie (yay!) mailing a letter to Santa Claus.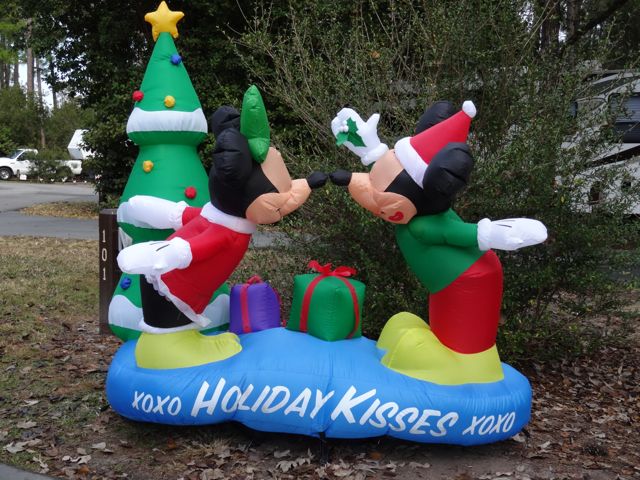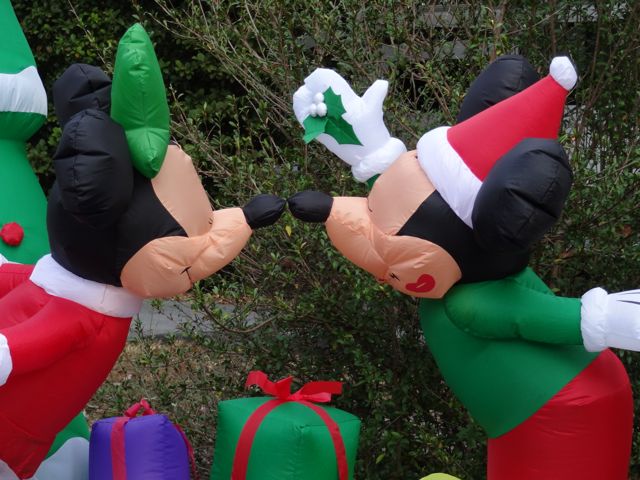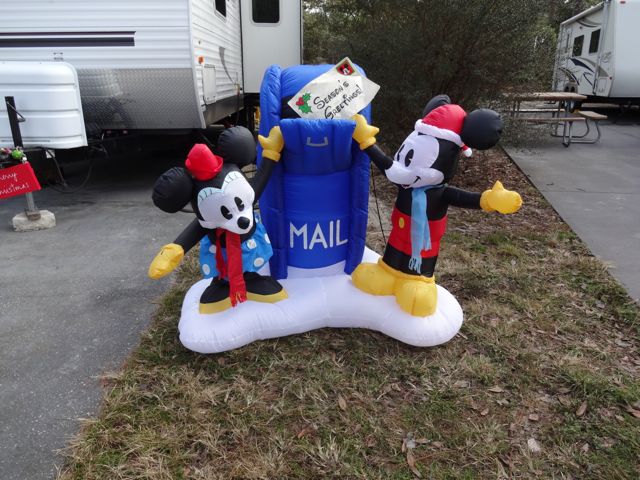 You can also find holiday decorations that have a "Florida theme" like these two flamingos pulling a sleigh.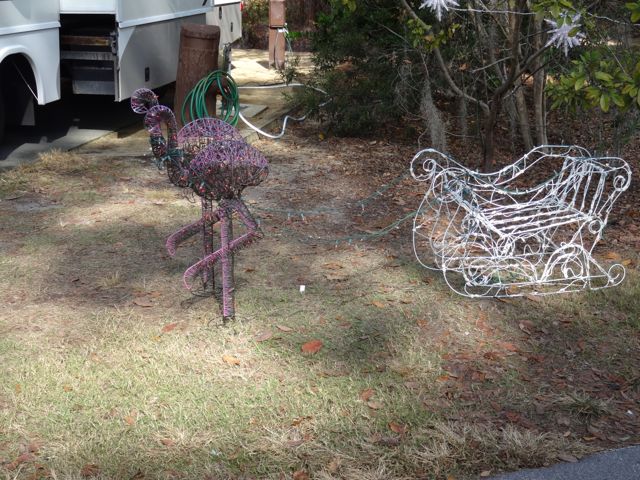 Some campers add holiday decorations that are way outside the Disney theme. This year we saw John Deere tractors, Snoopy as the Red Barron and even Sponge Bob.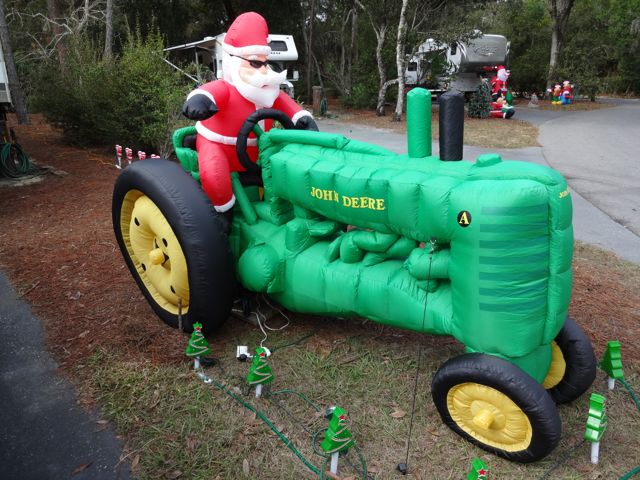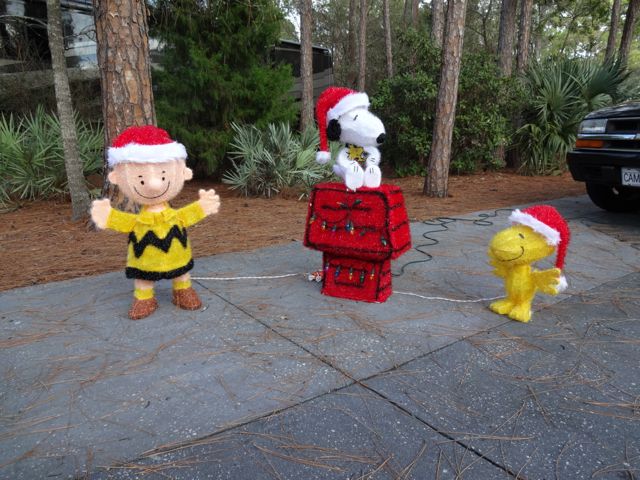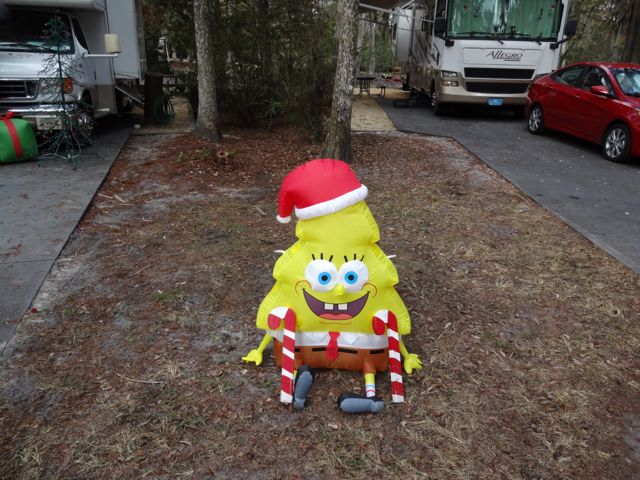 As I mentioned there were at least 6 camp sites that were elaborately decorated. The one below is one of 3 "walk through displays".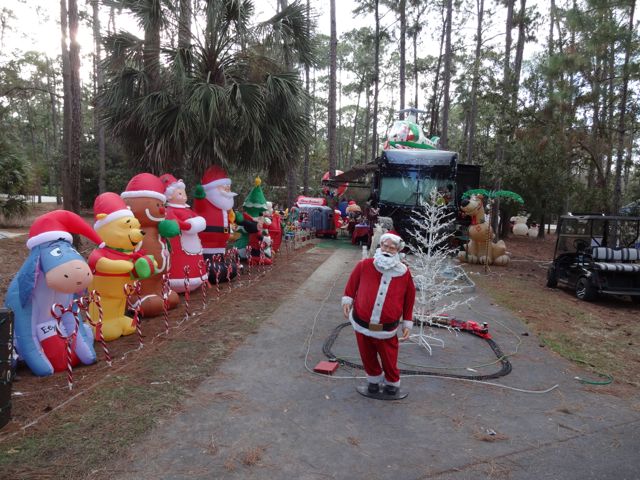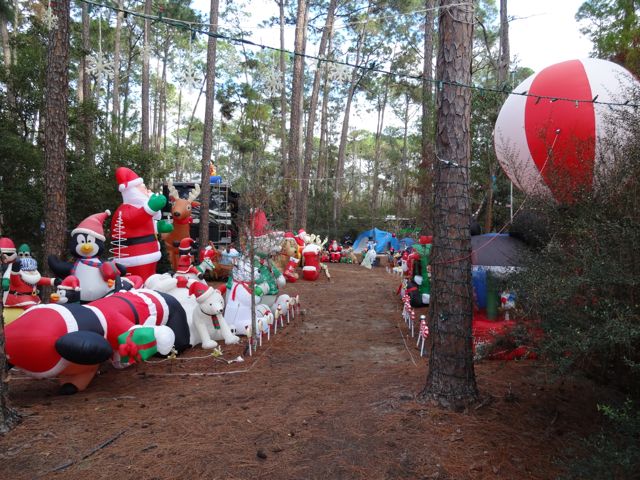 Another "new for us" display was a tent set-up with Santa ready to talk to children. Obviously, lots of time and thought went into this display.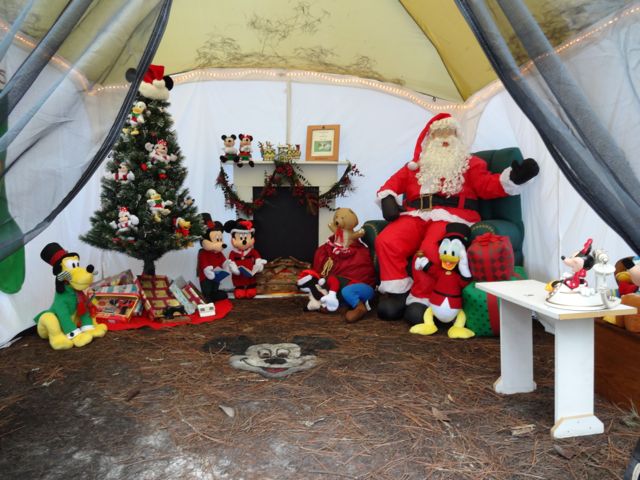 We have been enjoying the Fort Wilderness decorations most years since 2005. There is one "decoration" that we have seen every year we have been able to visit. Well, it is not a decoration so much as a "creation".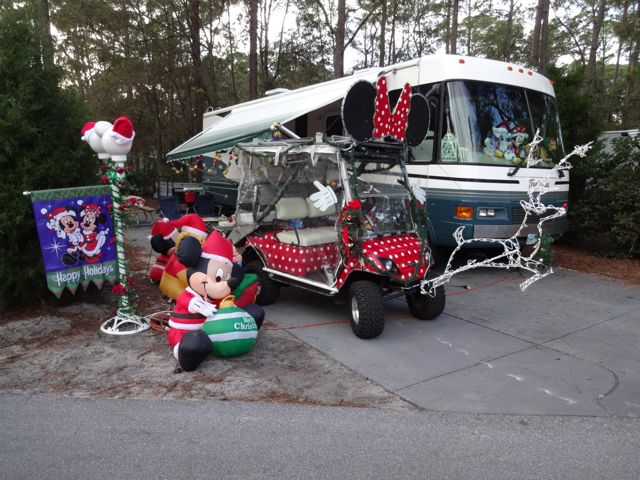 Next I want to share the most detailed display. Everything is not perfect nor is it much to see from a distance but get up close and look at how much these campers do.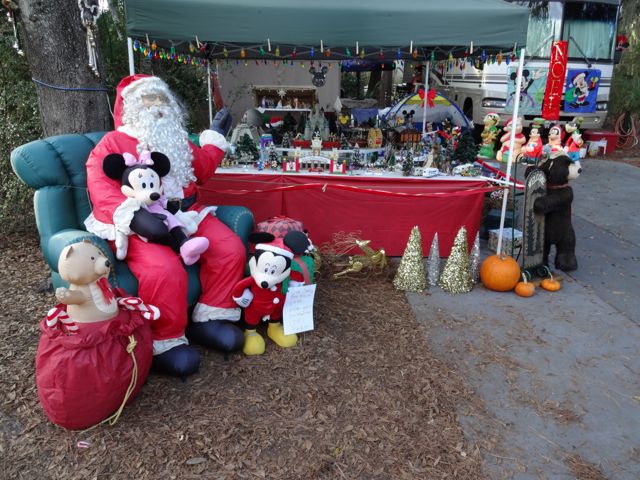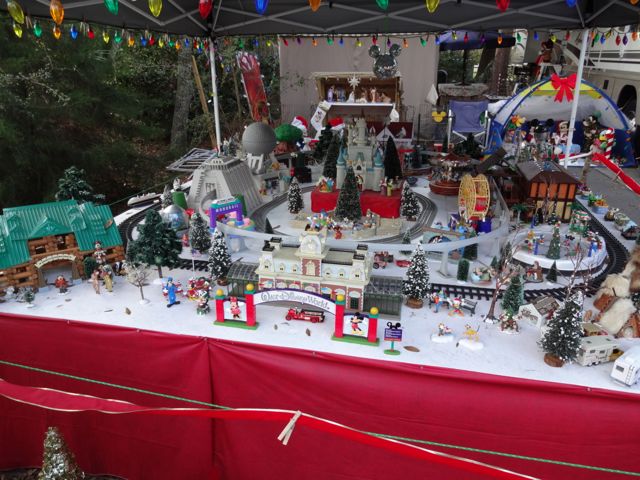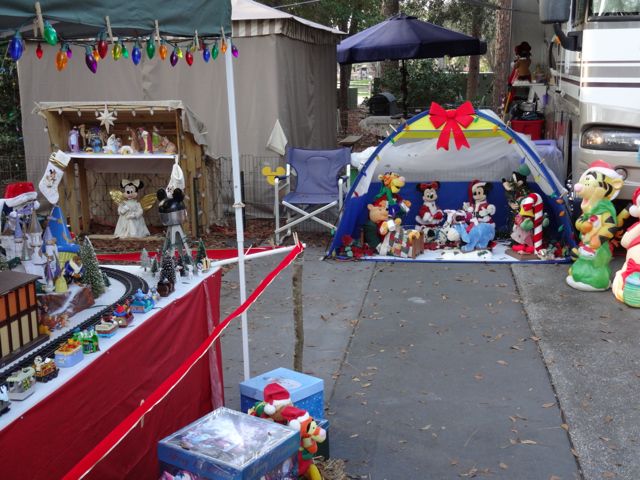 There are even snacks set-up on a table for all the reindeer…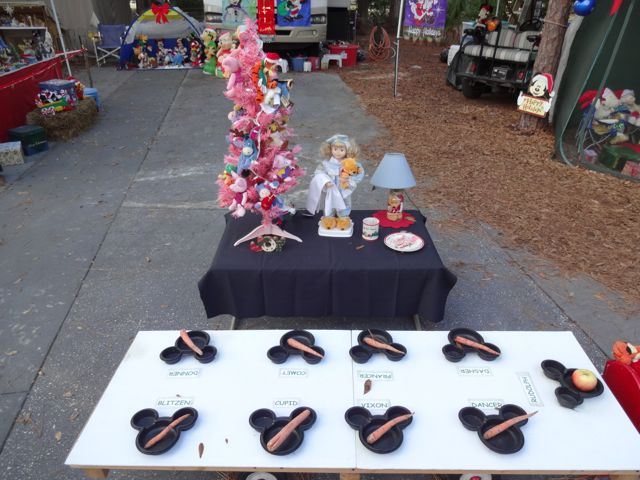 Cover your eyes boys (if you see what is in the next photo)!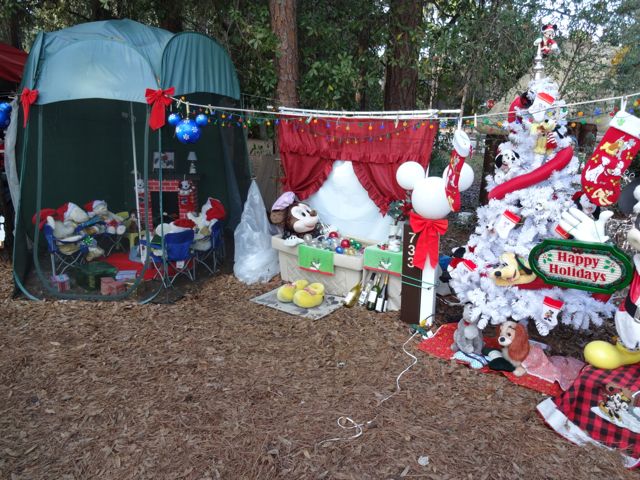 Yes, Minnie is having a bath. But how much wine has she had? How many empty bottles do you count? Mickey may get lucky tonight…as long as Minnie does not "pass out".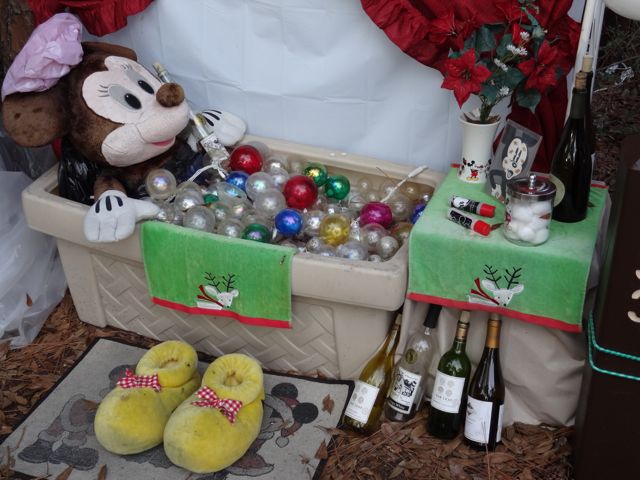 The folks at this campsite also have the best Christmas Tree topper…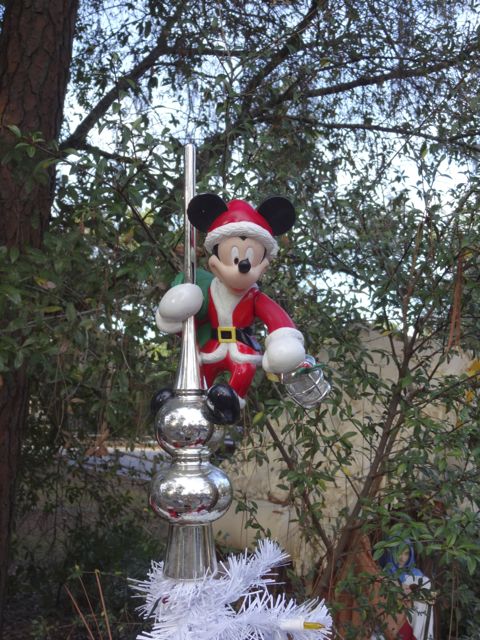 In the coming days we'll share more photos from the 2012 holiday decorations at Fort Wilderness Campground. Now get to bed early and pull the covers up high – Santa Claus comes tonight!
nick